03 October 2021
||
3

min read
Kaman Corporation recently unveiled its KARGO UAV, a medium-lift vertical takeoff and landing (VTOL) member of a family of unmanned systems for expeditionary logistics. The innovative eVTOL has been built with the U.S. Armed Forces future operating concepts in mind, and offers a rugged design for easy transport and deployment. The system's compact form-factor fits in a standard shipping container and is designed to be unloaded and operated by as few as two people.
The KARGO UAV is designed to provide cost-effective cargo hauling in its conformal pod or external sling load configuration, and will self-deploy with no payload up to 523 nautical miles with max lifting capacity of 800 lbs. This size and class vehicle also has multiple commercial applications and is part of a growth strategy involving a family of purpose built KARGO vehicles for multiple and repeatable missions.
Over the past six months, flight development testing of a scaled KARGO UAV demonstrator has been completed to prove out the air vehicle design, and flight testing of a full-scale autonomous vehicle is planned for 2022. The KARGO UAV leverages commercial off-the-shelf components as well as thousands of hours of automated and autonomous flight data from Kaman's K-MAX TITAN program in order to reduce schedule and technical risk.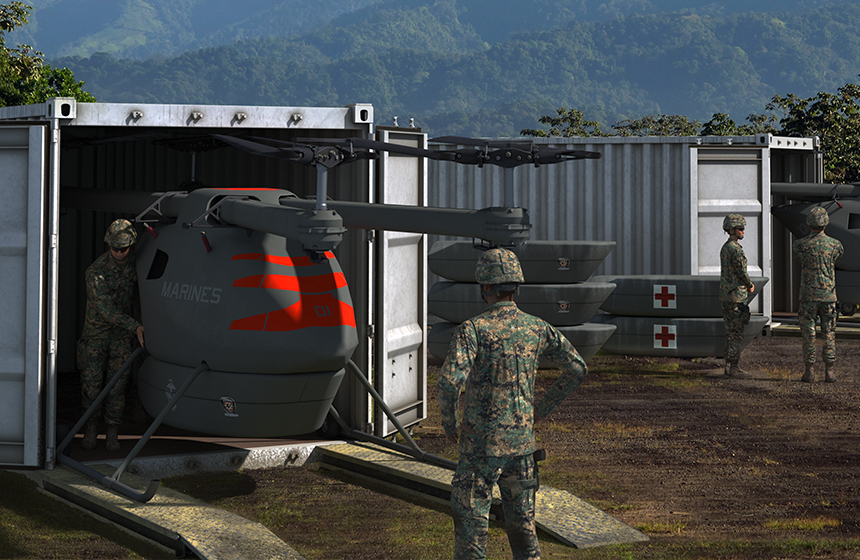 Also notably, Hybrid eVTOL developer Transcend Air also announced in August that it has selected Kaman Aerospace Group to build its planned Vy 400 tilt-wing aircraft, which is slated to enter service by 2025. Helicopter manufacturer Kaman will make the turbine-powered VTOL at its facility in Jacksonville, Florida. Transcend Air claims that its five-passenger, piloted aircraft will deliver per-mile direct operating costs that are one-quarter of those for medium twin helicopters with comparable cabin volumes and payloads.
Why it's important: As stated by Kaman Corporation CEO Ian Walsh, "The Kaman KARGO UAV is the only system of its class that is purpose-built to provide deployed Marines, Sailors, Airmen, Soldiers, and Coast Guard autonomous resupply in the lethal, fluid combat environment that future military operations will entail or for regular logistics missions. Our deployed service men and woman have persistent logistics challenges that we are answering with this reliable, maintainable and affordable solution."
Sources // AINonline; Inside Unmanned Systems; Kaman Corporation, Vertical Magazine