27 September 2020
||
4

min read
Chinese EV maker XPeng has displayed a prototype of its single-seat flying car at the 2020 Beijing International Automotive Exhibition, showing off eight propellers and a capsule-like frame.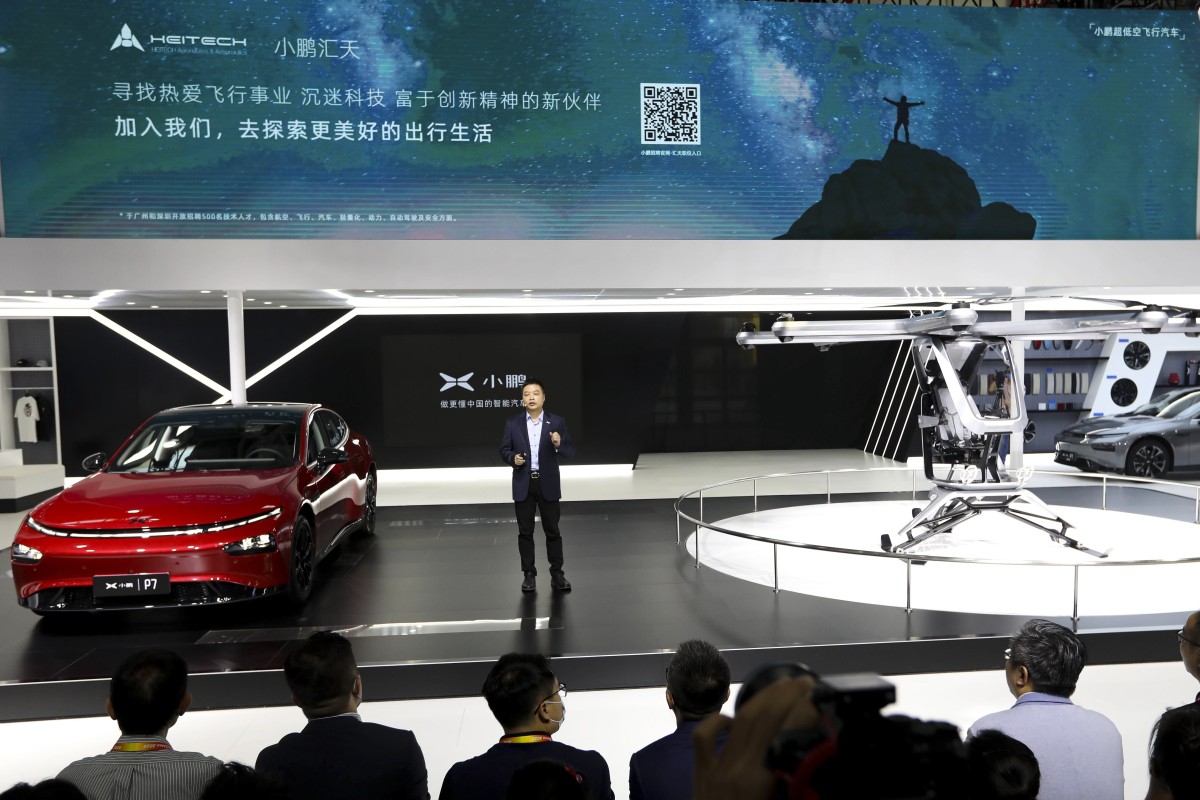 According to XPeng Motors, "electrically driven urban air-enabled multi-dimensional transport will be an integral part of the future mobility ecosystem. Xpeng is exploring this area in the course of its development of fully integrated and comprehensive mobility solutions for tomorrow's cities."
The vehicle, named the Kiwigogo, can carry up to two passengers and is designed to fly in low-altitude space, between 16 and 82 feet (5 to 25 meters) from the ground. XPeng explained that the Kiwigogo is in its seventh year of development and has 15 proprietary intellectual property rights and roughly 10,000 safety tests have already been conducted. However, XPeng CEO He Xiaopeng says that the flying car is unlikely to be commercialized by XPeng as part of its current offerings.
"Xpeng's efforts in the electric air-enabled mobility space will remain focused on R&D and experimental designs for the present," the Guangzhou-based company said, adding that it does not expect impact on its current business. "Xpeng will evaluate prospects in the space in details before proceeding with any substantial investment in this area."
Xpeng is not the only East-Asian automotive company considering aerial mobility. 
Geely Automobile Group
, the Hangzhou-based owner of Volvo Cars and the largest privately owned carmaker in China, poses competition to XPeng's Kiwigogo with its all-electric flying vehicle called the
X-Chimera 25
, capable of carrying a payload of 6 kilograms and efficiently navigating both land and air. Honda also has its
Fuzo
, first seen in 2009, which resembles a futuristic drone with wheels and four high-powered turbofans that give the twin-seat vehicle its lift.
Xpeng recently completed its Series C+ round financing which received US$900.0 million of proceeds from top-tier investors demonstrating confidence in the Company's strategy, market positioning, and its long-term vision as a leading Smart EV player in China. Additionally, the Alibaba-backed Chinese electric carmaker filed for an IPO on the NYSE and claimed to have raised more money than expected. As a result of the IPO, it sold more than 99.7 million shares for $15 each in its Wall Street debut, raising about $1.5 billion.
Why it's important: XPeng's recent successful IPO and Series C+ financing further enhances the Company's commitment and credibility in providing Smart EV transport for the future. This funding, in combination with its success in the automotive sector, could provide a strong base for the company to continue the development of its Kiwigogo air vehicle and other aerial mobility options in the future.
Sources // XPeng; South China Morning Post