08 January 2020
||
4

min read
Bell's new four-rotor version of its Nexus eVTOL is optimized for intra-urban mobility.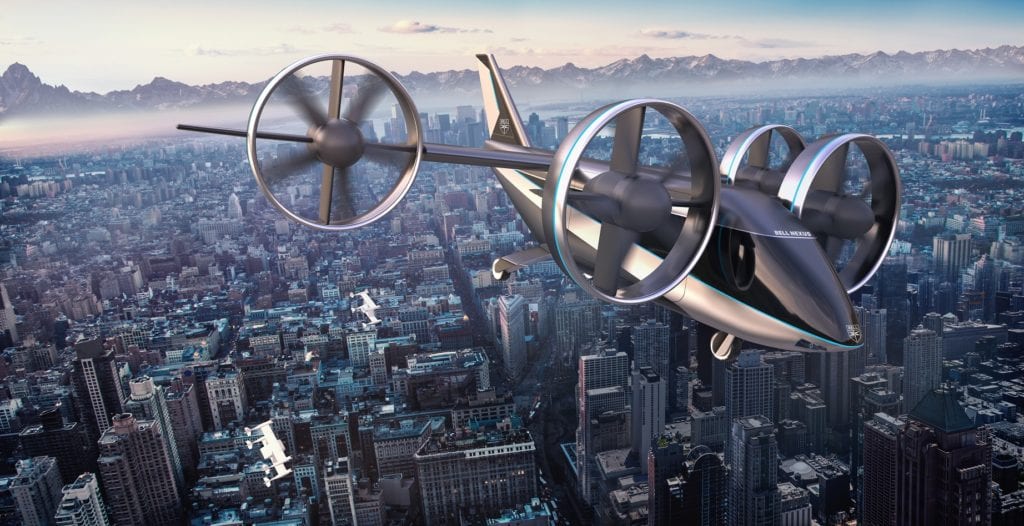 The Consumer Electronics Show 2019 was a hotbed for new aerial mobility technologies, and this year is culminating in a similarly exciting event for breakthrough UAM innovations. Last year, we saw the initial unveiling of Bell's Nexus prototype which featured six ducted fans with variable tilt angles to facilitate vertical takeoff and landing. The original prototype, now dubbed the Nexus 6HX due to its six hybrid-electric powered rotors, is accompanied by a fully-electric version.
Related: Bell Flight Unveils Nexus Prototype at CES 2019
Whereas the Nexus 6HX touts a range of up to 150 miles, the vehicle was originally optimized with inter-urban mobility, which necessitated the use of hybrid-electric propulsion. The specialized Nexus 4EX is instead designed specifically with up to 60-mile intra-urban flights in mind, which enabled the powerplant to be completely reliant on the latest battery technologies.
Bell CEO Mitch Snyder commented on the design choices that ultimately led to a reduced fan count and the hurdle to an all-electric powerplant:
One vehicle was compromising the attributes of each, and so we went at it in a different direction," said Snyder. "We looked at . . . what was coming from the market and what they wanted. And we were also able to progress our technology further and understand it and say, 'You know what? I think we can build an all-electrical [aircraft].'
Snyder also spoke about the emphasis Bell is placing on safety, and the path it plans to take to achieve EASA's level of safety recently identified in its certification standards for small VTOL aircraft. "With this form of transportation, we want to make it safe, we want to make it quiet, [and] we want to make it clean and green," said Snyder. "And the most important thing here, besides the safety, is we want to make it affordable, [and] accessible to everyone."
Bell is looking to have a certified system ready to serve the public in the middle to late 2020s, with a demonstrator to "come in appropriately" between now and then. In the interim, the company plans to continue technological development in venues such as its Systems Integration Lab (SIL), as well as regulatory development by working with the FAA to level-set all aerial mobility infrastructure to a common vision.
Why it's important: Original equipment manufacturers (OEMs) are coming to the realization that the demands of an eVTOLs powerplant are largely determined by the missions it is intended to serve. As the industry hones in to what the market is demanding of a new aerial mobility service, more OEMs will under an optimization of their vehicles to make best use of electric propulsion technologies where applicable.
Sources // Bell; Vertical Mag