14 September 2021
||
4

min read
Becker Avionics and commercial drone safety innovator, Iris Automation announced on September 8th that they have entered into a strategic partnership to increase the situational awareness of general aviation pilots and advance uncrewed aerial vehicle (UAV) safety. The two companies will jointly develop a non-required safety enhancing equipment system to detect and warn pilots of nearby, potentially threatening aircraft.
The Iris Automation and Becker Avionics collision avoidance safety system will use computer vision and machine learning to "see" when another aircraft is approaching from outside the pilot's field of view, and poses a risk to the equipped aircraft, issuing 3D audio warnings. The solution will combine Iris Automation's patented Casia detect and alert technology with Becker Avionics' communication and navigation equipment expertise for both crewed and uncrewed airborne applications.
Many aircraft are equipped with radio-based signalling technology (ADS-B) to avoid mid-air collisions. But in some airspace, traditional ADS-B signals are not available, increasing the workload on a pilot to monitor for incoming aircraft. Iris Automation cites research from the Bureau of Transportation Statistics, 1450 near mid-air collisions were reported from 2016-2020. Eighty-two percent of mid-air collisions occur from the rear, states the AOPA Air Safety Foundation (ASF). This risk is especially acute for the $48B helicopter market, with over 38,000 aircraft in service worldwide.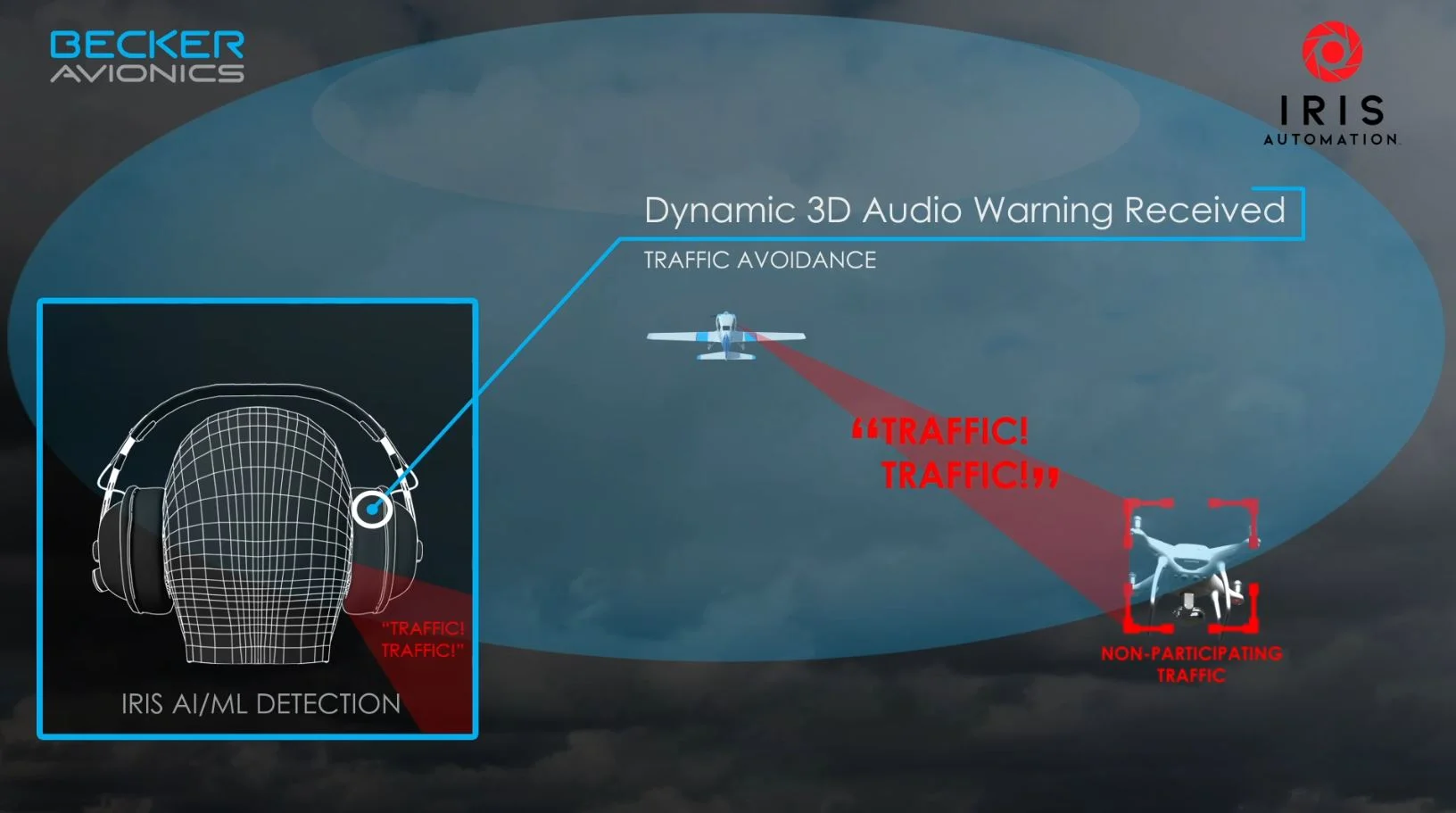 Jon Damush, CEO of Iris Automation, commented "This relationship is a pivotal move for Iris Automation as it defines and accelerates our work in the general aviation space. Our core mission is to improve air safety by avoiding collisions and this extension of our technology is a natural evolution. We are excited to be able to work with one of the most storied brands in the industry to deliver this important innovation."
The Iris Automation/Becker Avionics opto-electric/audio system will monitor airspace in visual flight conditions independently, onboard the pilot's aircraft, even if ADS-B or TCAS signals may be unavailable. It supplements pilots' situational awareness, whether in the cockpit or remote, during instrument scans or other parts of the airspace. By providing warnings in time to take appropriate actions to avoid potential collisions, the system is designed to improve safety with minimal impact on pilot workload.
Why it's important: The Casia detect and alert technology, paired with Becker's avionics know-how, will allow for eVTOL upstarts, drone operators, or small experimental aircraft builders to apply this package to their aircraft to increase safety and provide collision avoidance out of the box. While some eVTOL aircraft and aerial mobility systems rely on integrated technology for DAA, or the pilot in the loop to avoid traffic conflicts, this technology could be used by smaller companies or those looking to outsource in early stages to bolster the comprehensive nature of their designs.