13 August 2023
||
4

min read
AEROFUGIA, in collaboration with lead investor TH Capital and co-investors, announces the successful culmination of its inaugural round of strategic financing. The strategic partnership also involves a landmark agreement with Sino Jet, positioning AEROFUGIA as the principal electric vertical takeoff and landing (eVTOL) provider for Sino Jet.
The CEO of AEROFUGIA, Guo Liang, and Sino Jet's General Manager of Strategy Department, Wang Chao, solidified this agreement by signing a purchase contract for the initial batch of 100 AE200 eVTOL aircraft.
Related: Aerofugia, Geely carmaker subsidiary, completes AE200 eVTOL flight test
Sino Jet is a provider of business aviation services tailored to private jet owners and corporate clients, offering aircraft management, charter services, maintenance, and related support. Sino Jet also emphasizes its commitment to "green innovation" and sustainability, evidenced by its plan for carbon-neutral operations.
The ceremonial signing event saw the presence of notable figures, including Xu Zhihao, CEO of Geely Technology Group, Zhang Yang, Chairman of Sino Jet, Gu Wenting, Vice President of Geely Technology Group, and Li Yuanfeng, President of Sino Jet. Dignitaries from the Economic and Information Bureau of Chengdu, the Future Science and Technology City Development Bureau of the High-tech Zone, as well as key partners in the eVTOL industry chain, attended the occasion.
The cooperative venture between AEROFUGIA and Sino Jet stands as a pioneering alliance, uniting the realms of domestic eVTOL technology and business aviation. This union ushers in a new era of eVTOL within the business aviation sector. The amalgamation of AEROFUGIA and Sino Jet's operational and supply chain strengths will actively propel the adoption of sustainable eVTOL airworthiness standards, the establishment of eVTOL-centric airports, route operations, and advancements in various other domains.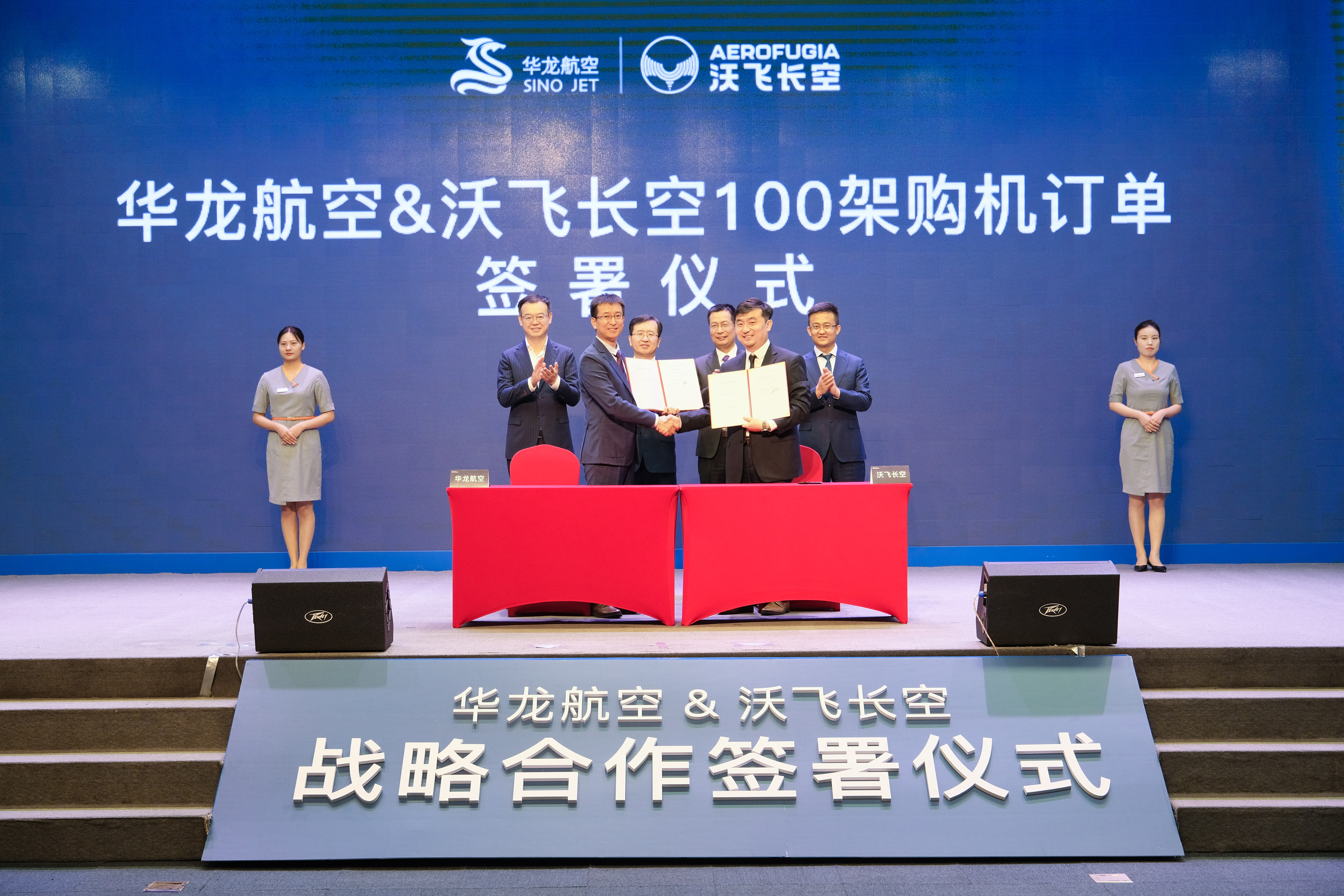 Gu Wenting, Vice President of Geely Technology Group, emphasized AEROFUGIA's role as Geely's AAM business torchbearer. The future will witness continued robust backing from Geely Technology Group for AEROFUGIA. Geely remains receptive to fostering collaborations with diverse partners, fostering the accelerated growth of the AAM industry.
Sino Jet's President, Li Yuanfeng, highlighted the company's unwavering commitment to holistic innovation. Sino Jet's dedication to "green aviation" as a long-term strategy harmonizes with the ethos of eVTOL technology, fostering a sustainable and eco-friendly three-dimensional air transportation framework. The AE200, a technological feat by AEROFUGIA, aligns seamlessly with Sino Jet's eco-conscious development ideology.
Why it's important: The progress of green energy aviation holds paramount importance in the global aviation landscape, offering efficiency, convenience, and environmental preservation. The alliance between AEROFUGIA and Sino Jet signifies a pivotal stride in the evolution of domestic eVTOL and business aviation, significantly propelling the realm of green, intelligent, three-dimensional transportation.