10 July 2018
||
3

min read
Kitty Hawk and Joby Aviation have received nearly $2m from the Defense Innovation Unit Experimental (DIUx). DIUx is a Pentagon organization "founded to help America's military make faster use of emerging technologies". None of those involved disclosed the funding details at that time.
DIUx's plan for small electric aircraft pragmatic, according to a document that detailed the funding program. "These vehicles will … offer a niche capability for specific tactical applications with a low acoustic signature, near instantaneous start/stop, ability to spread an assault force across multiple vehicles, and automated systems."
Joby Aviation received $970,000 from the DIUx in January last year. Kitty Hawk received $1m a few months later. However, neither company is having issues with funding; Larry Page is bankrolling Kitty Hawk, and Joby closed a $100m investment round in February this year with a number of venture capital companies.
From the Gaurdian website: "Experimental airworthiness certificates granted by the Federal Aviation Administration (FAA), previously unreported, detail exactly how and where the aircraft are being tested."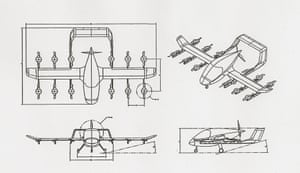 "Although neither vehicle can automatically sense and avoid birds or other aircraft, both are programmed to return safely back to base if their remote control systems fail. Joby's S4 also has a full-aircraft parachute in case it suffers "a catastrophic failure".
The S4 will mostly fly over agricultural areas and the open ocean from the ranch of Joby's CEO, JoeBen Bevirt, located in the hills above Santa Cruz. It will also operate out of Fort Hunter Liggett, a large US army base 150 miles south of San Francisco. The FAA application says Joby has a "Department of Defense contract to perform test operations" inside the base's airspace. Joby did not respond to multiple requests for clarification.
In May, Uber announced that it was co-developing an ultra-quiet rotor for a flying taxi with the US army.
Lt Col Michelle Baldanza, a defense department spokesperson, would say only: "DIUx is working with various personal aerial vehicle companies, all of which are selected via a competitive process open to any commercial entity." The FAA airworthiness certificates for both vehicles specify: "No weapons may be added to the [unmanned aircraft]."
Why it's important: A large amount of government interest is involved with two of the industry's largest players. While there are statements that no weapons will be added to the aircraft at this time, future developments must eventually start to shift toward military applications for these planned small personal aerial vehicles.
Source