19 November 2023
||
4

min read
The New York City Economic Development Conference (NYCEDC) hosted an event this week at the Downtown Manhattan Heliport (JRB), where Mayor Eric Adams announced the city's plans to electrify the heliport in support of eVTOL operations. Joby and Volocopter performed back-to-back exhibition flights, and BETA Technologies showcased its mobile charging station.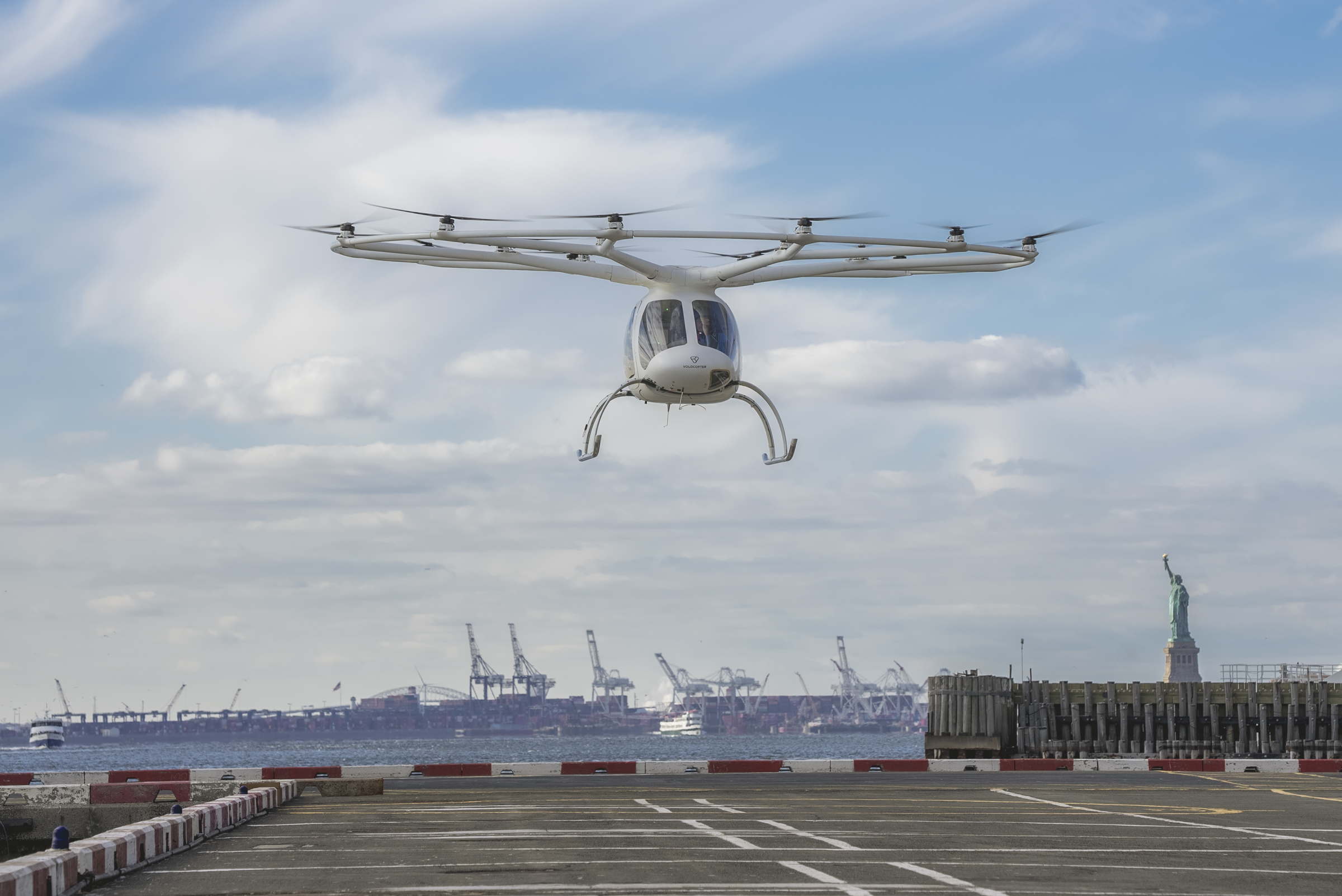 At the event on Monday November 13, Joby took off for a flight demonstration over the East River to demonstrate its technology and low noise footprint, landing back at the Downtown Manhattan Heliport. Volocopter followed Joby with a flight of its Volocopter 2X prototype, a predecessor to the two-seat VoloCity air taxi, which is on track to receive its type certificate from European air safety regulators in time for the 2024 Olympics Games in Paris, where the company expects to perform its first commercial passenger-carrying eVTOL flights. The company has been seen across the United States over the last couple months performing various exhibitions, and says this was its final stop prior to returning home to Germany.
"The Adams Administration has been a leader in driving technology innovation and economic growth while simultaneously improving quality of life," said New York City Economic Development Corporation president and CEO, Andrew Kimball. "EDC's new strategy for the Downtown Manhattan Heliport reflects these priorities while making it an industry leader in the embrace of eVTOLS – a quieter and greener helicopter alternative – while at the same time facilitating maritime freight with last mile e-bike deliveries that takes trucks off the roads."
Commercial services employing these new technologies are expected to launch in the city shortly after new eVTOL vehicles begin receiving their FAA type certification in 2025. Electric air taxi developers have said that commercial eVTOL flights would be price-competitive with ground-based ridesharing options while drastically reducing travel times. For example, according to Joby, a trip from the Downtown Manhattan Heliport to JFK International Airport would take seven minutes in an eVTOL air taxi, whereas the same trip takes an average of 49 minutes by car.
"By electrifying one of the most famous heliports in the world, New York is demonstrating global leadership in the adoption of electric air travel," said Joby founder and CEO JoeBen Bevirt. "We plan to make quiet, emissions-free flight an affordable, everyday reality for New Yorkers, while significantly reducing the impact of helicopter noise."
Why it's important: This event at one of the world's busiest heliports was a very intentional signal by NYCEDC that the city is ready and welcoming of commercial electric air taxi operations. While these may be the last eVTOL flights NYC sees for a while as the manufacturers and the FAA aren't slated to converge on type certification until 2025, in the meantime OEMs Joby and Volocopter can tout that they have successfully flown the first ever electric air taxis in New York City. Further, the groundwork for future operations is already being refined by companies currently operating on-demand aerial mobility services in the area, such as BLADE Urban Air Mobility.